Wheel Game is a mini-game in Godfather: The Five Families. Active as of 4/12/16, the game allows you to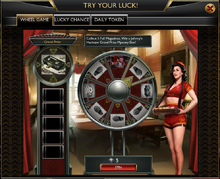 spin for 8 different prizes at 5 diamonds a spin. You cannot currently use cash or login tokens for spins. Considering it's connection with the Johnny Hacksaw Mystery Box Contest, it's unclear if the Wheel Game is a permanent addition.
Current Prize Mix
Edit
1x 1000 Bassist Bundle
1x 15 hour Speed Up
1x Lucky 18 Mystery Box
5x Full Magazines
Grand Prize: Johnny Hacksaw Mystery Box Contest
Edit
The Game allows you to win Full Magazines. Collect 5 full magazines and you win the Johnny Hacksaw Mystery Box. The box contains one of the following prizes: Johnny's Hacksaw, Greenwich Wet Expansion Deed, Don's Decree +19, Don's Decree +18, Don's Decree +17, Premium Jackpot Bundle, Beefy Bundle, Shield Onrnament, Don's Permit, 7-Day Speed-up, 4-Day Speed-Up, 1000 Bootlegger Troops, 3000 Man Eater Troops, 7,500 Delivery Bomber Troops, 3000 Bonnie, Clyde, or Getaway Driver Troops, or a 99% Training Whistle.
Ad blocker interference detected!
Wikia is a free-to-use site that makes money from advertising. We have a modified experience for viewers using ad blockers

Wikia is not accessible if you've made further modifications. Remove the custom ad blocker rule(s) and the page will load as expected.