"The Tuxedo may be the best restaurant in the city but the owner's lousy at cards. He's paying us in installments."
The Tuxedo Restaurant is one of racket in Chinatown neighborhood. It's the first racket in the neigborhood chinatown.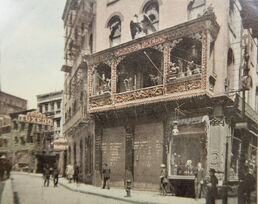 The Tuxedo Restaraunt racket is based on the real life Chinese opera house, Chinese Tuxedo, which stood at the corner of Doyers Street and the Bowery in the Chinatown section of Manhattan and opened in 1897. [1]
Requirements
Edit
Unlock after you use Chinatown deed.
Cash Produced
Edit
$1,000 Cash every 7 minutes
chance of 2x, 3x or 4x cash multipliers
Other Chinatown Rackets

Edit
References
Edit
Ad blocker interference detected!
Wikia is a free-to-use site that makes money from advertising. We have a modified experience for viewers using ad blockers

Wikia is not accessible if you've made further modifications. Remove the custom ad blocker rule(s) and the page will load as expected.