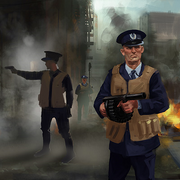 "When things get messy, call in the Hardliners. Once they draw a line in the sand, nothing crosses it. Nothing."
The Hardliner is a trainable offensive troop in The Godfather Five Families.
Overview
Edit
The Hardliners are the second Entrenching-type troops in the game. They are categorized under Johnny Law troops. They have the highest Health among other Johnny Law member, but have a low Damage, second-to-last after Crooked Cops.
Advantages
Edit
Disadvantages
Edit
Requirements
Edit
This section will be added soon
Special Bonuses
Edit