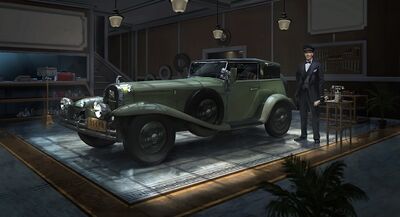 The Albern is the third and currently the latest super troop introduced in The Godfather Five Families. The Albern, alongside the Cousins (Il Cugino and La Cugina) are commonly referred to as Super-Troops.
Once unlocked, a small car will appear in front of the First Neighborhood Mansion. Clicking on the car will bring up a menu allowing you to equip and upgrade Car Parts
The Albern is a vehicle, a car to be exact, that can be deployed to a battle. Like the other Super Troops, It has a very high both damage and health points. It can even go higher if it is equipped with its parts. But on the other hand, everytime it returns from a battle, there is a cooldown period before it can be sent to a battle again. Unlike the other Super-Troops, it can be used to defend a neighborhood. If a Cugina comes to spy a neighborhood that Albern defends, it will report the player.
Advantages
Edit
Very strong
Very quick
Can revive after death
Its parts can give some bonus when reaching certain level
Can defend neighborhood
Can report a spying Cugina if stationed in the same hood which was spied
Disadvantages
Edit
Requirements
Edit
To unlock The Albern, you need the following:
Level 10 Garage
Keys to The Albern
Extra Info
Edit
Like any Super Troop, the Albern can be leveled up. Its experience will increase when it attacks enemies, or it can be leveled up 1 level at a time using Cole's Motor Oil.
While Il Cugino and La Cugina use Attire to improve attack & health stats and add bonuses, Car Parts fullfuill the same purpose with the Albern.[1]
Once The Albern is level 5, Il Cugino and La Cugina can be loaded into the Albern. This means that their stats will be added to your Albern's AND the Albern will gain a bonus to its Critical Hit chance.
The Keys to the Albern can currently be obtained by exchanging 17 daily tokens in the daily tokens tab(discontinued as of 12th September 2015).
References
Edit
Ad blocker interference detected!
Wikia is a free-to-use site that makes money from advertising. We have a modified experience for viewers using ad blockers

Wikia is not accessible if you've made further modifications. Remove the custom ad blocker rule(s) and the page will load as expected.