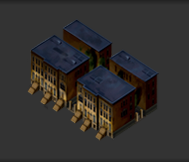 "All the up-and-coming folks pay big money to live in Striver's Row. We shake down their landlords, and they just pay a 'security deposit.'"
Striver's Row is a racket in The Godfather Five Families. It is the third overall racket in the neighborhood harlem.
The Striver's Row racket is based on the real life St. Nicholas Historic District, known colloquially as "Striver's Row," located on both sides of West 138th and West 139th Streets between Adam Clayton Powell Jr. Boulevard (Seventh Avenue) and Frederick Douglass Boulevard (Eighth Avenue) in the Harlem neighborhood of Manhattan, New York City.
David H. King, Jr., the developer of what came to be called "Striver's Row", had previously been responsible for building the 1870 Equitable Building, the 1889 New York Times Building, the version of Madison Square Garden designed by Stanford White, and the Statue of Liberty's base. The townhouses in his new project, which were originally called the "King Model Houses", were intended for upper-middle-class whites, and featured modern amenities, dark woodwork, and views of City College. King's idea was that the project would be "on such a large scale and with such ample resources as to 'Create a Neighborhood' independent of surrounding influences."
King sold very few houses and the development failed, with Equitable Life Assurance Society, which had financed the project, foreclosing on almost all the units in 1895, during an economic depression. By this time, Harlem was being abandoned by white New Yorkers, yet the company would not sell the King houses to blacks, and so they sat empty until 1919-20, when they were finally made available to African Americans for $8,000 (~$100,000 in 2016) each. Some of the units were turned into rooming houses, but generally they attracted both leaders of the black community and upwardly-mobile professionals, or "strivers", who gave the district its colloquial name.
The district was designated by the New York City Landmarks Preservation Commission in 1967, and was listed on the National Register of Historic Places in 1975.[1]
Requirements
Edit
Unlocks after upgrading Harlem mansion to level 5.
Cash Produced
Edit
$25000 cash every 3.5 hours
References
Edit
Ad blocker interference detected!
Wikia is a free-to-use site that makes money from advertising. We have a modified experience for viewers using ad blockers

Wikia is not accessible if you've made further modifications. Remove the custom ad blocker rule(s) and the page will load as expected.