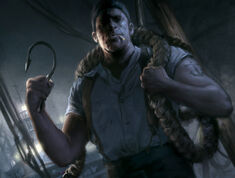 "With a fish gaff in his right hand and a gunny sack swung over his left shoulder, he risked life and limb, daily while at sew, so he fears nothing while on shore."
The Smuggler is a trainable offensive unit in the Godfather five families.
Overview
Edit
Smugglers are the sixth Health-type troops in the game. They are categorized under Pulitori troops. They have better Health than the other Pulitori members and the DRC, but have lowest Damage in the Pulitori class plus the Assassins. They are sometimes used as meat shields or even the main attackers to attack a tough enemy. They will get a Health bonus when deployed with Doctors, and Damage bonus when deployed with Loan Sharks. Each Smuggler requires 1 Favor to be trained.
Advantages
Edit
Disadvantages
Edit
Requirements
Edit
Level 10 St. Marco Arena
6 Smugglers per sacrifice
Special Bonuses
Edit
Ad blocker interference detected!
Wikia is a free-to-use site that makes money from advertising. We have a modified experience for viewers using ad blockers

Wikia is not accessible if you've made further modifications. Remove the custom ad blocker rule(s) and the page will load as expected.