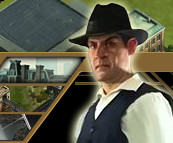 Queens is the tenth and newest Neighborhood available in the game. Acquiring Queens unlocks two new troops, new research, unique buildings, and perhaps most importantly, the ability to use the Queens Crew Bank Crew Bank.
What's New
Edit
3 trainable Troops (along with new class)
Research Topic: Barricade
2 upgradable Buildings which enhance inventory/crew functions
How to Acquire
Edit
There are currently only a few ways to get the Queens deed:
May be bought from the store (when available) for as little as 299 Diamonds
May be won as a reward for opening certain Mystery Boxes
Exclusive Buildings
Edit
Crew Bank
Edit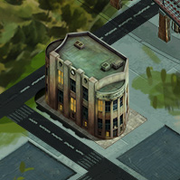 This building allows the player to deposit and withdraw resources from any hood of their choosing. Only those crew members who have obtained Queens AND has the permission are allowed to withdraw resources[1]. Upon obtaining the Queens deed, each player is considered a "client". Simply ask the Crew Leader who is the default "Bank Manager" to change the permission to "Creditor" in order to withdraw resources. Other functions within the crew bank are "Bank Officer", they are able to deposit/withdraw resources to other crew members from the bank and directly send resources from their neighborhoods.
The more crew members who obtain Queens, the capacity to store resources will increase in the Crew Bank. Once the capacity has been reached, deposits will not be able to be made.
Each upgrade to the Crew Bank allows the member one transfer (withdrawal or deposit) of resources: Level 1=1 transfer; $2 million cash limit; $1 million each resource (food, steel, cement). Level 2=2 transfers; $4 million cash limit; $2 million each resource.
Financier's Office
Edit
This building allows players to exchange inventory items for Stock Certificates. The level of the building determines the value of the item you are exchanging. Level 1 Financier's Office allows 1 exchange of an item with a 1 diamond value.
The Office: This is where you would exchange unwanted inventory items for Stock Certificates. The higher the level of the building, more items will be made available to exchange.
The Back Room: This is where you will exchange Stock Certificates for items and/or RP (respect points). The higher level of the building, more items will be made available to exchange.The items currently available in the back room are,
Greater Attire Medallion
Dealer's Gold Mystery Box
Kickback Bundle 1000
The Outlaws Bail Order 6 hours
Appointment bundle 500
G-Squad Mystery Box
Gold Band Mystery Box
24 Hour Speed Up
30% training whistle
Don's Decree +11,+12,+13 and +14
Silver Toolbox
1,000 Delivery Bomber Bundle
Exclusive Troops
Edit
Queens offers three new exclusive troops, which can only be trained in this neighborhood:
References
Edit
Ad blocker interference detected!
Wikia is a free-to-use site that makes money from advertising. We have a modified experience for viewers using ad blockers

Wikia is not accessible if you've made further modifications. Remove the custom ad blocker rule(s) and the page will load as expected.