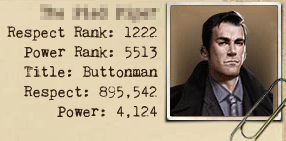 Power
is another form of rank in the Godfather 5 Families game. Power is earned by training troops - the higher the troop, the more power they give when they are trained.
See also Troops for individual troop power stats
Gaining and Losing Power
Edit
Power can only be earned through training troops.
Power can also be lost whenever troops die in battle. Whichever troops die in battle determines the amount of Power that is subtracted from your total.
However, no power can be lost when sacraficing units. Even though you are technically losing troops, your power remains the same. This can produce some deceptive power rankings because players with a lot of power may not necessarily have a lot of troops - they might just have high levels.
Power Rankings
Edit
Similar to Respect, all players are also ranked based on their power. From the "File" menu, open up the 'Rankings" tab just like you would for respect. However, click on the 'Power' tab and it sorts both players and crews by their power. The power ranking is also nice in that you can directly compare power of crews and players across all families in one screen - there is no need to switch back and forth between families to compare.
Ad blocker interference detected!
Wikia is a free-to-use site that makes money from advertising. We have a modified experience for viewers using ad blockers

Wikia is not accessible if you've made further modifications. Remove the custom ad blocker rule(s) and the page will load as expected.