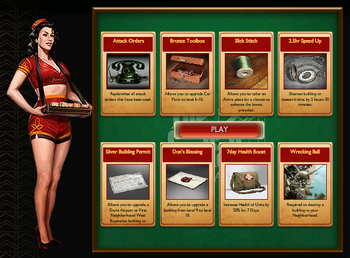 Lucky Chance is a Mini-game in The Godfather Five Families. It can be played from any neighborhood and offers unique rewards.
The game is an easy resource to obtain Store Items, that can only be purchased with diamonds, for free. Every 24 hours player are given the opportunity to play the game for free. However additional plays can be bought for the price of five diamonds. After players select how to play (free play or diamonds) they are shown a screen with eight cards, like the picture above. On these cards are everything from 25 bruisers to City Deeds, to Bundles, to speed ups. Almost every store item can possibly be found in the Mini-game. After the cards are show with their prizes players are given the option to play that hand. If players choose not to play with the cards they can exit the screen, click on the Lucky Chance icon, and try for a different variety of cards. If players are satisfied with their cards they can click Play.
Game Play
Edit
After selecting Play, the cards are flipped over, shuffled and redistributed to the locations the cards were, but in a random, new order. Players must then select ONE card to flip over. After the card is flipped it is shown to the player. The game then ends and the awarded card is sent to their inventory.
Tips and Tricks
Edit
A common mistake by most new players. You don't have to play the round if you are unsatisfied with the prizes. Simply exit and re-enter the screen again as many times as necessary. You can win with patience.
You are most likely to win the lowest diamond cost reward - the items are weighted by their in-store value, so you will be more likely to win cheaper (and less useful) items.
An excellent guide that explains exactly how to get a winning Lucky Chance had can be found here.
Diamonds are not required - wait 24 hours to play for free. Lucky Chance tickets can also be won other ways too, including in a Beginner Package.
Ad blocker interference detected!
Wikia is a free-to-use site that makes money from advertising. We have a modified experience for viewers using ad blockers

Wikia is not accessible if you've made further modifications. Remove the custom ad blocker rule(s) and the page will load as expected.