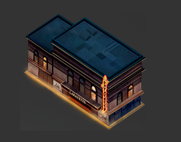 "The Fayette hasn't been up to firecode for years. The firechief works for us, so if they don't pay us protection, we'll just shut them down."
La Fayette Theater is one of rackets in Godfather Five Families. Its the first racket in the neigborhood Harlem.
The LaFayette Theatre racket is based on the real life LaFayette Theatre in Harlem in Upper Manhattan. It was an entertainment venue located at 132nd Street and 7th Avenue in Harlem, New York that operated from 1912 to 1951. The structure was demolished in 2013.
The 1,500-seat two-story theater was built by banker Meyer Jarmulowsky. It was designed in the Renaissance style by architect Victor Hugo Koehler, who also designed the two three-story buildings flanking the theater on the corners of 131st and 132nd Streets. The Lafayette Theatre opened in November 1912. [1] Jarmulowsky was the son of Canal Street passage/steerage and banking magnate Sender Jarmulowsky.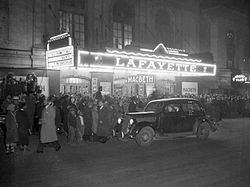 The elder Jarmulowsky died in 1912 as the theatre neared completion, and his sons, Meyer included, took over the family business. Unfortunately, they lacked their father's business acumen and mismanaged the business. In 1914, at the start of World War I, the Canal Street Jarmulowsky Bank closed as many depositors made "runs" on the bank to get money to help their families in Europe. [2]
According to the New York Times,2,000 people demonstrated in front of the bank. 500 people stormed Meyer Jarmulowsky's home, forcing him to escape across tenement rooftops. Meyer Jarmulowsky and his brother were eventually indicted for banking fraud. [2]
Requirements
Edit
None - unlocked after you use Harlem deed.
Cash Produced
Edit
$1000 cash every 7 minutes
Other Rackets
Edit
References
Edit
Ad blocker interference detected!
Wikia is a free-to-use site that makes money from advertising. We have a modified experience for viewers using ad blockers

Wikia is not accessible if you've made further modifications. Remove the custom ad blocker rule(s) and the page will load as expected.