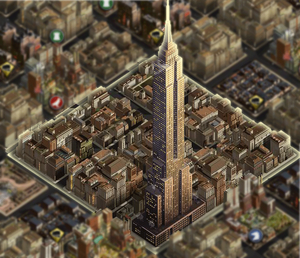 The
Imperial States Building
(usually abbreviated ISB) is a building that each player can attack once every 10 hours for a chance of winning a prize.
The ISB contains up to 10 levels that a player can attack. Each level has an increasing level of units - from 60 Black Widows on level 1 to 1,000 each Pultori on level 10. Floors 5, 8 and 10 each has a boss that will fight alongside the units there: Harry 'Pittsburg Phil' Strauss on the 5th, Jackie "Legs" Diamond on the 8th and Albert "The Mad Hatter" Anastasia on the 10th.
Pentthouse Mystery Box
Edit
Main article: Penthouse Mystery Box
If you beat the 10th Floor of the Imperial State Building you are guaranteed to win the Penthouse Mystery Box. Open the Penthouse Mystery Box for a chance to win Don's Blessing, Don's Sanctions, Don's Grudges, bundles of Kickbacks or Appointments, bundles of Pulitori, Johnny Law or Clean Up Crew Troops, Don's Armory Items, Speed Ups, War, Trade or Defense Advisors or even the Jackie "Legs" Diamond Avatar
Harry Strauss is the boss of the 5th floor, however his avatar and name is oddly switched with the boss of the 10th floor, Albert Anastasia.
Ad blocker interference detected!
Wikia is a free-to-use site that makes money from advertising. We have a modified experience for viewers using ad blockers

Wikia is not accessible if you've made further modifications. Remove the custom ad blocker rule(s) and the page will load as expected.