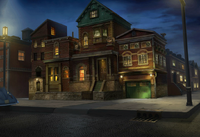 Harlem is the eighth neighborhood in the Godfather Five Families. With this neighborhood, you get access to the Harlem East Expansion, and three new troops.
Acquiring Harlem
Edit
There are three ways to get this neighborhood, they are as following: 
Win the deed by playing Lucky Chance.
The player can exchange 100 Bonds gained from attacking Gangs (level 8 or higher) and Murder Inc. 
Buy the deed in the store. (Usually at 15 Diamonds)
Purchase the deed for 1 Daily Login Token.
Below is the rackets that come along with the neighborhood:
Exclusive troops
Edit
Below is a list of troops that are exclusive to Harlem
Ad blocker interference detected!
Wikia is a free-to-use site that makes money from advertising. We have a modified experience for viewers using ad blockers

Wikia is not accessible if you've made further modifications. Remove the custom ad blocker rule(s) and the page will load as expected.