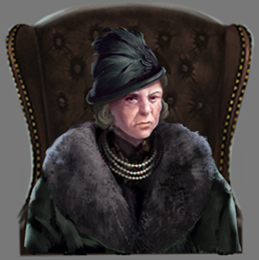 "Respect doesn't come easy on the streets. There ain't nothing wrong getting an edge when it comes to earning that Respect, right? It's time to get someone with veteran experience with the Respect Advisor, Giada Valenti! Don't let here grey hair fool you, she has thick skin and sharp teeth."
Giada Valenti is one of the Respect Advisors in the Godfather 5 Families game. With Valenti in your Council Room, you'll earn bonus Respect from PvE, the Exchange, The Albern Equipment, Cousin Attire, and especially from the Council Room.
How To Acquire
Edit
Ad blocker interference detected!
Wikia is a free-to-use site that makes money from advertising. We have a modified experience for viewers using ad blockers

Wikia is not accessible if you've made further modifications. Remove the custom ad blocker rule(s) and the page will load as expected.