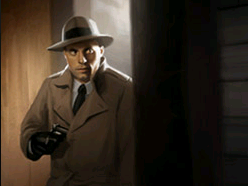 "This federal agent is as crooked as they come."
The G-Man is a trainable offensive troop in the Godfather Five Families.
Overview
Edit
G-Men are the second Damage-Support-type troops in the game. They are categorized under Johnny Law troops. They have a balanced Damage and Health points. They are frequently used as main attackers to attack either a tough or a weak enemy. They will give a Damage bonus to Crooked Cops, DRCs, and Bookies when deployed together. Each G-Man requires 1 Kickback to be trained.
Advantages
Edit
Disadvantages
Edit
Requirements
Edit
Level 11 Duke Palace
5 G-Men per sacrifice
Special Bonuses
Edit