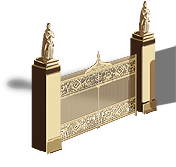 "A Front Gate will give you a heads-up when someone's moving in on your turf. The higher the level of your Front Gate, the more information you'll get in advance."
Main article: Estate
The
Front Gate
is a
estate
building found in The Godfather Five Families. Want to know what's going on in your
Neighborhood
? The Front Gate is your eyes and ears when it comes to detecting and analyzing enemy attacks. Upgrading this building will let you learn more about an impending attack, such as who is attacking and from where, the size of the army heading towards you and the types of units sent. Use this knowledge to your advantage to better prepare your Estate in the case of an attack.
Requirements
Edit
Level 1 : The guards can spot approaching enemies.
Level 2 : The guards can spot a phony.
Level 3 : The guards know when it's about to go down.
Level 4 : The guards can tell who the attackers work for.
Level 5 : The guards can get a sense of the number of enemies attacking.
Level 6 : The guards can quickly spot the enemies weapons.
Level 7 : The guards can accurately tell who's packing what.
Level 8 : The guards can count the number of enemies at the glance.
Level 9 : The guards are aware of what the attackers' boss is capable off.
Level 10 : The guards are keen to the attacker's rackets and scams. +25% increase to attacker march times
Level 11 : The guards hold off attackers for longer. +50% increase to attacker march times.
Ad blocker interference detected!
Wikia is a free-to-use site that makes money from advertising. We have a modified experience for viewers using ad blockers

Wikia is not accessible if you've made further modifications. Remove the custom ad blocker rule(s) and the page will load as expected.