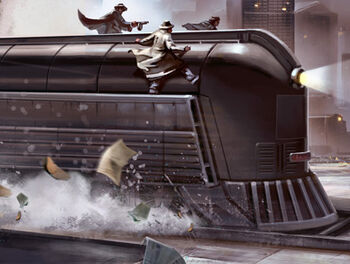 "Sometimes a truck doesn't cut it, that's when you need to take the train. These rattlers are the best thing around for moving plenty of hot cargo on the swift."
Freight Train is a not-trainable offensive troop in The Godfather Five Families.
Freight Trains are the third and currently the last Transport-type troops in the game. They have very huge Load capacity and and high Health for transport units, but have a very low Damage. They are mostly deployed with some strong troops to bring back some stolen resources to the attacker's neighborhood. Usually, it is not recommended to send only Freight Trains to attack any tiles as they will not break over your opponent's wall, but because of their speed, they are commonly utilized as scout units.
Advantages
Edit
Very quick; sometimes utilized as scouts
The last troop that takes damage when attacking
Disadvantages
Edit
Dies very easily
High upkeep cost
Not-trainable, except in some certain events
Cannot be crafted in Doria Airport
Cannot be upgraded via Boxing Arenas
Never goes to jail
Requirements
Edit
Train - Events only
Edit
This section will be added soon
Freight Train has the highest speed points compared to any other troops.
According to their stats, Freight Trains can also be classed as Health-type troops.
Freight Train are currently available in the store, 100 Trains for 50 diamonds.
Ad blocker interference detected!
Wikia is a free-to-use site that makes money from advertising. We have a modified experience for viewers using ad blockers

Wikia is not accessible if you've made further modifications. Remove the custom ad blocker rule(s) and the page will load as expected.