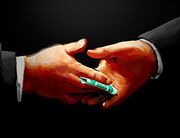 For main article, see Research.
Corruption is a research topic in the Godfather Five Families.
In game Description
Edit
The Family needs to keep growing, and that means finding new recruits.
Each upgrade decreases training time of Health Units by 2.5% and 1.25% for Balanced Units.
Level One Requirements
Edit
Level Two Requirements
Edit
Level Three Requirements
Edit
Ad blocker interference detected!
Wikia is a free-to-use site that makes money from advertising. We have a modified experience for viewers using ad blockers

Wikia is not accessible if you've made further modifications. Remove the custom ad blocker rule(s) and the page will load as expected.