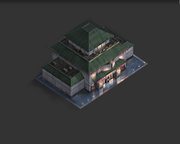 "Everyone wants tickets to the Canton. Its a good thing there are people like us managing the ticket sales."
The Canton Theater is the second racket in the  Chinatown neighborhood.
Editor's Note: In my visual research, no images of similar large, free-standing, pagoda like buildings could be found. The front signage (at right) does resemble The Chinese Theatre only vaguely.
The Canton Theatre racket is most likely based on the real life Chinese Theatre that stood at 5-7 Doyers Street in Lower Manhattan. It's the least confirmable racket source as all other Chinatown racket sources resemble their game art somewhat. Sometimes known as the "Chinese Opera House," the theater was painted with murals on its side walls – the work of Loo Gop, at the time Chinatown's only illustrator.  There was no balcony; patrons were seated on rows of wooden benches with back panels that ran from stage to exit.  The theater had only a small stage with little room.
In the summer of 1905, members of two rival tongs, the On Leongs and the Hip Sings, unleashed a ferocious gun battle inside the Chinese Theater that left four men dead.  The massacre signaled an important moment in New Yorkers' continuing evaluation of Chinatown.  For some, the neighborhood had always been an unpleasant place but not an intrinsically dangerous one.  Now an element of fear crept into Chinatown's popular imagery, and the little Chinese Theater – innocuous until that awful night – felt the immediate effects.  By the early 1910s dwindling receipts forced its closure, and the space was converted into a mission house for the Rescue Society of New York. [1]
Requirements

Edit
Unlock after upgrade chinatown mansion to lvl 3.
Cash Produced
Edit
$10,000 cash every 25 minutes
chance of 2x, 3x or 4x cash multipliers
Other Chinatown Rackets
Edit
References
Edit
Ad blocker interference detected!
Wikia is a free-to-use site that makes money from advertising. We have a modified experience for viewers using ad blockers

Wikia is not accessible if you've made further modifications. Remove the custom ad blocker rule(s) and the page will load as expected.