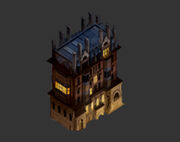 "Robbing a bank is easy when all the guards owe Queenie's bookies a ton of cash. Every night they look the other way so people can make their withdrawls hassle-free."
Burgess Bank is one of rackets in Godfather Five Families. It's the second racket in the neigborhood Harlem.
The Burgess Bank racket is based on the real life Mount Morris Bank Building, also referred to as the Corn Exchange Bank (Mount Morris Branch) and Corn Exchange Building, that was a historic building in the East Harlem neighborhood of Manhattan, New York City, located at 81-85 East 125th Street on the northwest corner of Park Avenue.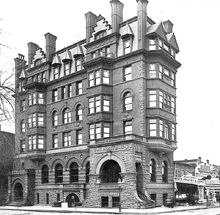 The Mount Morris Bank was institutionally organized in December 1880 when Harlem was being transformed from a suburb into an urban residential neighborhood, connected to downtown commercial and residential districts by the new Manhattan Railway Company lines. Construction began on its new building – which was selected by competition and located at 81, 83, and 85 East 125th Street – on April 3, 1883 and was completed on February 1, 1884.
The New York Central Railroad ran in an open cut along Park Avenue, with a (below-grade) station at 125th Street. The building's location was thus convenient for commuters as well as for commerce.
The Corn Exchange Bank eventually acquired the building and MMB in 1913 leading to a name change. Subsequently The CEB would be merged with The Chemical Bank, and that joint venture would acquired by Chase Manhattan aka JPMorgan-Chase.
The building fell into disrepair by the 1970's. The city repossessed the building in 2000 and in 2009 demolished all but the basement and main floor, for safety's sake. Developer Artimus Construction purchased the structure in 2012 and undertook to rebuild it for commercial and retail occupancy. The design, by Danois Architects, is not intended to be an exact copy of the original, but rather strongly suggestive of it, and was approved by the Landmarks Preservation Commission in 2013.[1]
Requirements
Edit
It's is unlocked after the player upgrades the Harlem mansion to lvl 3.
Cash Produced
Edit
$10000 Cash every 25 minutes
Other Rackets
Edit
References
Edit
Ad blocker interference detected!
Wikia is a free-to-use site that makes money from advertising. We have a modified experience for viewers using ad blockers

Wikia is not accessible if you've made further modifications. Remove the custom ad blocker rule(s) and the page will load as expected.