Expand your operation to Brooklyn to unlock new Damage Troops.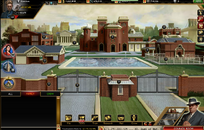 Brooklyn or BK is a neighborhood in The Godfather Five Families.
Brooklyn is the third neighborhood introduced in the game. It has 1 Expansion with 3 Exclusive Buildings located in it. This neighborhood has 3 exclusive troops, all classed as Damage-type troops.
Acquiring Brooklyn
Edit
There are four ways to get Greenwich Village, they are as following: 
Buying the deed in the store for maximum 10 diamonds.
Wining the deed in Lucky Chances.
Collecting 100 Brooklyn Bonds from Gangs and Murder Incs. 
Purchasing the deed for one Daily Login Token
Brooklyn has 4 racket buildings. Unlike the previous neighborhoods, Brooklyn's rackets have the slot-machine-interface, allowing the players to collect the cash with a chance to get bonus cash or items. The rackets are:
Exclusive Buildings
Edit
Brooklyn has 3 exclusive buildings, all located in the East Expansion. They are:
Exclusive Troops
Edit
Brooklyn also offers four exclusive troops:
External Links
Edit
Ad blocker interference detected!
Wikia is a free-to-use site that makes money from advertising. We have a modified experience for viewers using ad blockers

Wikia is not accessible if you've made further modifications. Remove the custom ad blocker rule(s) and the page will load as expected.