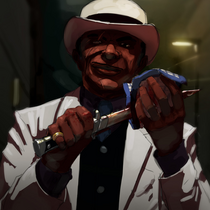 "Debts are the law in Harlem. Bookies make sure those debts get paid. Anyone who disagrees gets a Harlem sunset."
The Bookie is a trainable offensive troop in The Godfather Five Families.
 Overview
Edit
Bookies are the ninth Damage-type troops in the game. They are categorized under Johnny Law troops. They have better Damage than any other Johnny Law, but have the lowest Health in their category after the DRC. They are frequently used as main attackers to attack either a tough or a weak enemy. They will get a Health bonus when deployed with P.I. Gumshoe, and Damage bonus when deployed with G-Man. Each Bookie requires 1 Kickback to be trained.
Advantages
Edit
Disadvantages
Edit
Requirements
Edit
Level 12 Marnie Garden
5 Bookies per sacrifice
Special Bonuses
Edit
Ad blocker interference detected!
Wikia is a free-to-use site that makes money from advertising. We have a modified experience for viewers using ad blockers

Wikia is not accessible if you've made further modifications. Remove the custom ad blocker rule(s) and the page will load as expected.