"Rally Il Cugino and La Cugina, it's Bank Heist time!"
Bank Heists are special events held every few months in the Godfather 5 Families.
The Bank Job consists of four stages. Using Bank Stamps to advance through the levels, every level you beat rewards the player with prizes. Once the 4th level has been beat, there is a chance to win one one the Grand Prized at the top and the Job will reset to stage One; it is up to you to repeat the process again. Higher level Bank Jobs require more Bank Stamps to complete, but also will reward better prizes.
However, the prizes from beating levels are not the only type of loot. Players will also win Unmarked Bills from completing stages (usually between $2,000 and $5,000 per level). As you acquire Bills, the red meter on the right will fill up and when certain amounts are reached, additional prizes will be dropped.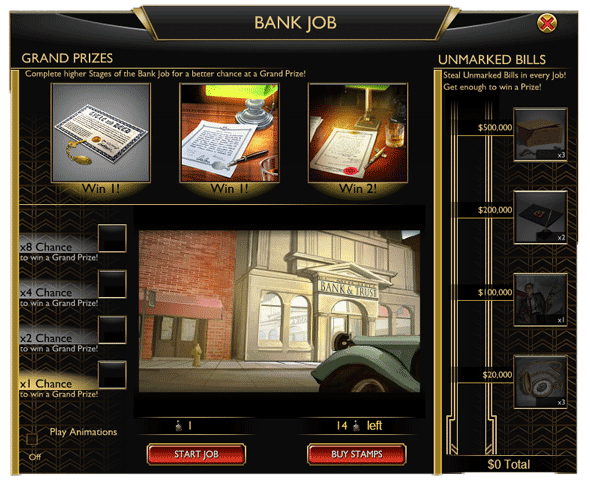 Bank Stamps
Edit
These stamps are required to advance levels in the Heist. Each level requires more Stamps. Stamps can be purchased in the store for a price of 5 Diamonds, but during Heists, may be on sale for 3 or 4.
Level 1 requires 1 Stamp
Level 2 requires 2 Stamps
Level 3 requires 3 Stamps
Level 4 requires 4 Stamps
Ad blocker interference detected!
Wikia is a free-to-use site that makes money from advertising. We have a modified experience for viewers using ad blockers

Wikia is not accessible if you've made further modifications. Remove the custom ad blocker rule(s) and the page will load as expected.